[dropcap]S[/dropcap]o you want to learn to cook. Maybe you've always had a flair for it, maybe you've always enjoyed cooking, or maybe you just really love food. Everybody has their own reasons why they want to learn to cook, but there isn't necessarily a one-size-fits-all answer about learning how to cook. Perhaps you are looking for experience in the field to open your own restaurant, or maybe you feel the need to cook more efficiently to lower costs. Whatever your reason is, you must understand that it will take months, even years, to actualize that dream.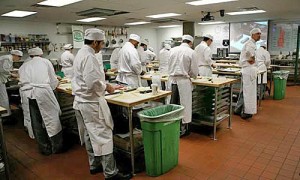 But that's the best part. The journey along the way never stops, and you will likely continue to learn to cook years after you firmly believe you've learned everything. Cooking is a humbling profession. It continually challenges your ego, your skills, and your ability to problem solve. Cooking is hardly ever just throwing something into a pan at the right temperature and knowing when it's done. If you've ever had to cook for more than 4 people you'll understand when I talk about things like perfecting timing, portion sizes, organization and stress. The act of cooking itself rarely takes up the majority of your time because of so much that is tied into cooking.
If you're serious about wanting to learn to cook, ask yourself these questions:
Can you handle stress?
Are you an organized person?
How good do you think you are you at multitasking?
Do you have a passion for food?
I've met many people in the industry who had no desire to be there. To them, it was just a job. These people are pretty miserable because the life of a professional cook is anything but glamorous, in spite of what the Food Network will have you believe. They suck at what they do, too. You can tell how much a cook loves his job by the food that comes out of the kitchen. If you've ever been to a restaurant that serves you burnt or under-cooked food, cold food, or food that looks like no care or passion went into it, you'll know what I'm talking about. If the cook doesn't care, it will show 100% of the time in their food.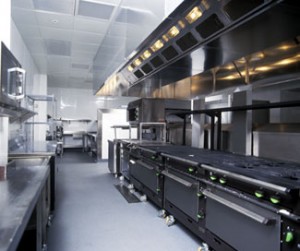 I recently ate out at a higher end restaurant that blew me away. There wasn't anything spectacular about the menu – it had pretty typical items. But there were little clues about the quality here and there. The biggest one being how much of the items were prepared in-house. Items like peppercorn sauce, bearnaise, and hollandaise were all promoted as made in-house. Now, as someone in the industry, I know just how widely prevalent the act of "buying in" is. One of the first things to go is usually salad dressings and stocks. Some things were understandable, like mayonnaise or canned tomatoes. Labor and costs just don't justify it. There is always better things to spend your time on then mayonnaise. It's all opportunity cost. But when barely anything is made in-house, it should raise some red flags.
There are two kinds of cooks: The professional cook, and the home cook. The Culinary Cook was built to help bridge the huge gap between what you've been taught by your parents, and what is taught in a professional environment while you learn to cook. You can learn to cook in one of two ways. You can take the formal route and find a good school that has great experienced chefs who will teach you while you learn to cook, or you can dive right into cooking by either picking up a few cook books and beginning your journey from the comfort of your own home.
There are strengths and weaknesses for both long- and short-term. I will always recommend those who show passion and genuine interest wanting to learn to cook to take a formal program. There, you will learn hands-on all the things that I show you on The Culinary Cook and more. Developing a solid foundation and using those foundational skills is what The Culinary Cook is all about. There are thousands of recipes out there and many of them are fundamentally wrong or erroneous and can hinder your journey as you learn to cook. There's no reason for anybody to be using bouillon cubes when they know how to make stocks, or buying minute-rice when you know how to cook rice.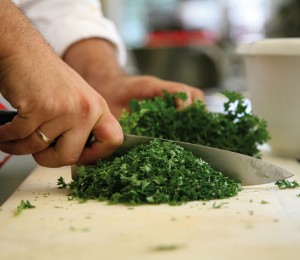 You don't have to spend thousands of dollars on a formal education either unless you truly plan on breaking into the industry. If you just follow the advice on this site, you will be on solid ground with the confidence in knowing you are learning the professional methods used by professional cooks. From here, you can get into more advanced techniques by picking up a few books by professionals and applying those techniques.
In the end, it's not about where you went to school or who you learned from because it all comes from the same book. It's about how much you're willing to learn. I don't have enough fingers on my  hands to count how many chefs I've met who refused to learn or improve. Most of them choose to be stuck in the 80's with their rack of lambs with mint sauce, Neptune's, and incredibly expensive ingredients. Price rarely has anything to do with how good something tastes. A mark of a good chef is his/her ability to create a delicious meal from the cheapest cuts, toughest pieces of meat. A great chef isn't only born out of the CIA. Many of them come from community colleges, or through the industry.
The great thing is that you can learn to cook as soon as today. Just get out there and apply the methods I've talked about on The Culinary Cook and you'll be on the right track!
Updated February 22, 2015