Basic Tomato Sauce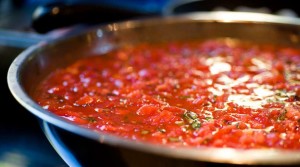 One of the most widely used and varied sauces in the world is the tomato sauce. From Bolognese sauces, pizza sauces, chili stews, to the thousands of varieties of spaghetti sauces, there seems to be a limitless application. What makes the tomato sauce popular is the availability of the ingredients. Tomatoes are very easy to get a hold of and can be picked up at the grocery store at any time of the year (more or less). Other ingredients, such as beef bones or chicken bones, are a bit more difficult. And because of this ease of access, just like soccer it has permeated the fabric of almost every culture in the world in some way or another.




Some recipes of tomato sauce span back generations and have been passed for hundreds of years. The beauty of the tomato sauce is that it is widely accepted and quite frankly expected that it vary from establishment to establishment and family to family. In that sense, a good tomato sauce has the ability to bring people together or to cross borders, time, and generations. There is no "wrong" to making a tomato sauce, but there are some basics that you should follow. Enough romanticizing about something so basic as the basic tomato sauce, let's just dive right in and begin to understand the classic basic tomato sauce that many varieties you taste every day are derived from.
What is a Basic Tomato Sauce?
From the shelves of the grocery store there are so many different varieties of tomato products that it can be difficult to understand which product to apply to which circumstance. So before we go forward with explaining what a tomato sauce is and how it differs, let's go over the various products you're likely to find at your local grocer.
Tomato Paste
Tomato Juice
Tomato Sauce
Diced Tomatoes/Canned Tomatoes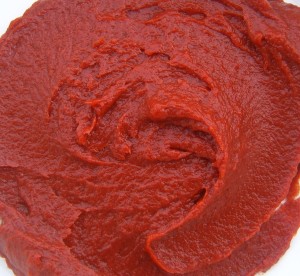 Tomato Paste is highly concentrated tomato puree that you use to thicken a tomato sauce. It can be mixed with a liquid, such as stock or water, to create your base. The base of all tomato sauces use tomato paste.
Tomato Juice is the liquid of juiced tomatoes mixed with a bit of the flesh to create a liquid that is usually used as a drink or to add a fresher flavor to a finish a tomato sauce. Relatively more expensive for what it provides and generally not used as much as other tomato products
Tomato Sauce is the canned variety of the basic sauce you can purchase in stores. If unadulterated, can provide a great consistency and flavor to your sauce.
Diced Tomatoes/Canned Tomatoes are cost-effective alternatives to concasse tomatoes, but you reduce your control over the flavor that you impart. With canned tomatoes, there can be additives such as salt, preservatives, and/or color which can adulterate your tomato sauce. Because the canning process also requires the product to be pasteurized at a high temperature, this also affects the freshness and flavor. Strain the liquid whenever possible before adding to your sauce.
Basic Sauce Difficulty
(Lower is easier)
[skill start=auto progress=65]Hollandaise[/skill]
[skill start=auto progress=45]Espagnole/Brown Sauce[/skill]
[skill start=auto progress=25]Tomato Sauce[/skill]
[skill start=auto progress=15]Veloute[/skill]
[skill start=auto progress=10]Bechamel[/skill]
Basic Tomato Sauce
Yield: 2L (2 qt.)
Prep time: 15 min.
Cook time: 1 hour
Basic Tomato Sauce

| Ingredient | Weight (Metric) | Weight (Imperial |
| --- | --- | --- |
| Carrot, small | 50 g | 2 oz |
| Celery, small dice | 50 g | 2 oz |
| Onion, small dice | 50 g | 2 oz |
| Garlic cloves, chopped/crushed | 15 g | 4 |
| Olive oil | 90-120 mL | 3-4 fl oz. |
| Tomato paste | 500 g | 1 lb |
| White stock | 2 L | 2 qt. |
| Sugar | 5 g | 1 tsp. |
| Sachet (Bay leaf, Sage, Thyme, Rosemary, Peppercorns, Fennel seeds) | 1 | 1 |
| | | |
What You'll Need:
Procedure
Sweat your vegetables in the olive oil.
Add the tomato paste and sweat for 2 min. IMPORTANT: Over cooking the tomato paste can lead to a bitter flavor
Add the remaining ingredients and simmer for 1 hour.
Adjust seasonings.
Press through a food mill, if desired, or blend in food processor to puree.
Tomato Sauce Derivative Sauces
Traditional derivative sauces. All amounts are for 1 L (1 qt) of Tomato Sauce.
Creole Sauce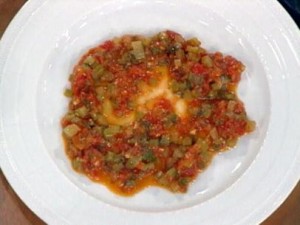 Saute 175 g (6 oz) of finely diced onion or shallots, 125 g (4 oz) thinly sliced celery and 5 g (1 tsp) garlic in 30 mL (1 fl oz) olive oil. Add the tomato sauce, a bay leaf and a pinch of thyme and simmer for 15 minutes. Add 125 g (4 oz) finely diced green pepper, 100 g (3 1/2 oz) diced okra, 100 g (3 1/2 iz) sliced green olives and a dash of hot pepper sauce. Simmer for another 15 minutes, then remove bay leaf.
Spanish Sauce
Saute 150 g (5 1/2 oz) sliced onions with 100 g (3 1/2 oz) thinly sliced celery, 150 g (5 1/2 oz) sliced sweet peppers and 5 g (1 clove) of garlic in 50 mL (2 fl oz) olive oil. Finish with 125 g (4 oz) sliced mushrooms, sweated, and 125 g (4 oz) of tomato concasse. Season with chiles, salt and pepper to taste.
Provencale Sauce
this is not precisely a derivative of tomato sauce. A simple version is 500 g (1 lb) tomato concasse sauteed in 100 mL (4 fl oz) olive oil, flavored with 5 g (1 clove) garlic, diced and 50 g (2 oz) of chopped shallot. Season with salt and pepper and a bit of sugar. Goes great with light flavored fish, meats or vegetables.