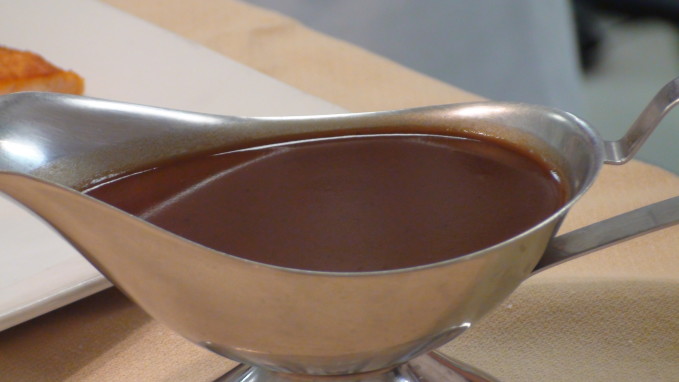 Espagnole (Brown Sauce) & Demi-Glace
If you're going to want to make something delicious when it comes to sauces, then you're going to want to know how to make the intermediary sauce called Espagnole. This highly important sauce is the basis for all the great sauces that you may know of, including the very popular demi-glace. Because espagnole is a basic sauce, it is neutral in flavor but embodies the richness that a brown sauce demands. In this article we focus on the espagnole sauce (brown sauce).
What Is an Espagnole or Brown Sauce?
The basic sauce of the espagnole or brown sauce family is a full bodied and rich sauce. It is made from brown stock of which brown roux, mirepoix and tomato puree are added. An espagnole is almost always used to produce a demi-glace. Brown stock can also be used to make a jul lie. Demi-glace is used to create all of the sauces within the espagnole family. It is a lot more involved in terms of process than a veloute or bechamel and is a literal transformation. From a brown stock to an espagnole to a demi-glace, each step is a completely different flavor and product.




Basic Sauce Difficulty
(Lower is easier)
Espagnole/Brown Sauce
45%
Espagnole Sauce (Brown Sauce)
Yield: 1 L
Prep time: 15 min.
Cook time: 2 hrs.
Espagnole Sauce (Brown Sauce)

| Ingredient | Weight (metric) | Weight (Imperial) |
| --- | --- | --- |
| Mirepoix, medium dice | 125 g | 4 oz |
| Fat or clarified butter | 50 g | 1.75 oz |
| Flour | 62.5 g | 2 oz |
| Brown stock | 1.25 L | 1.25 qt |
| Sachet: Bay leaf, thyme, peppercorns crushed, parsley stems | 1 | 1 |
| Tomato puree | 62.5 g | 2 fl oz |
| | | |
What You'll Need
 Procedure
We want to saute the mirepoix in the fat until it is well caramelized.
Add the flour with the mirepoix to create a roux and cook until you create a brown roux.
Add the tomato puree, stir in to remove any lumps of roux. Add brown stock and bring to a boil, then reduce to a simmer.
Simmer for about 1-1.5 hours, allowing the sauce to reduce. Skim the surface to remove the scum and impurities.
Strain the sauce with a conical strainer and several layers of cheesecloth. Cool in a water bath.
What Is a Demi-Glace?
Demi-glace is French for "half glaze", which is by definition a mixture of half brown stock and half espagnole sauce that reduced by half. The reason that we create a demi-glace is that is creates an entirely new type of sauce that is then used to make the derivative sauces.
Brown stock is used to make the espagnole or brown sauce as we discussed above. After this has been achieved, we can then use the espagnole sauce to produce a demi-glace. It is traditional to finish a demi-glace with a bit of Madeira or sherry wine. Because the demi-glace creates a much richer, more flavorful base, it produces much finer derivative sauces than those made from an espagnole (brown sauce).
In order to create a good demi-glace, it is important to hold the sauce to certain standards of quality. A properly made demi-glace is rich, smooth and lump free. It primary roasted flavor comes from the bones used from the brown stock. You do not want any taste of roux. The caramelized bones and mirepoix along with the tomato puree contribute to the glossy dark almost chocolate brown color. The consistency should be barely thick enough to cling to food without being pasty or heavy.
Demi-Glace
Yield: 1 L
Prep time: 5 min.
Cook time: 30 min – 1 hour
Demi-Glace

| Ingredient | Weight (Metric) | Weight (Imperial) |
| --- | --- | --- |
| Brown stock | 1 L | 1 qt |
| Espagnole (Brown sauce) | 1 L | 1 qt |
| | | |
What You'll Need
Procedure
Combine both the brown stock and the espagnole into a saucepan and heat over medium heat
Simmer until the mixture is reduced by half
Strain, cool.
Conclusion
We combined this portion of the espagnole (brown sauce) and demi-glace into one article and will focus on the demi-glace derivative sauces in the next article. Because of how much variety and types of the derivatives there are, it is best to kep them separate.
The espagnole (Brown sauce) and demi-glace sauces are very important steps. While there are other variations that stem off from the brown stock that don't relate to the espagnole, such as glace de viande, we chose to look at the most important aspect. But as part of the sauces content update, we will be including articles on the elusive and oft sought after glace de viande in an  upcoming post. Stay tuned!
Please follow and like us: