What Are Lentils? The Different Types and Varieties
Lentils are a nutritious round legume that comes in a variety of different types and sizes. Not only are they a cost-effective option for those on a budget, but they also provide a vast array of versatility when creating a dish.
A lentil is easily identified by its lens-shape. Interestingly enough, lentils come from a pod and are the seeds of a large bushy annual plant. It is a major staple in the diets of many people, including the Indian subcontinent where it is known as Dal. Lentils are one of the oldest crops domesticated in the Old World having been found as old as 11,000 BC. But enough history, let's get into the types.
Types of Lentils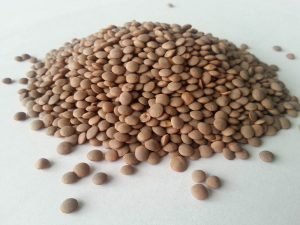 1. Brewer's, or Brown Lentils
Brown lentils are the most popular type of lentil you can find. Their color can vary, from dark brown, light brown to black. They do not take very long to cook, up to 15 minutes. These lentils do not require soaking and can be cooked from dried form relatively quickly. Other names include Spanish, brown, Brewer's, German Brown, or Indian Brown. Find some here (Amazon).
---
2. Red Lentils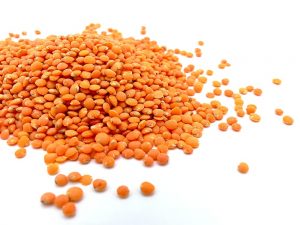 Red lentils have a variety of colors, including light red, orange, gold, yellow to red. They are generally considered sweeter than other varieties and have a nuttier taste. For cooking times, they can be up to 30 minutes. However, it is important to note that this type of lentil tends to become extremely soft. Therefore, best used in curries, soups or as a thickener.
3. Green Lentils
Green lentils have a great flavor profile and have a slight pepper-like flavor. Their color can be a pale or more vibrant green. Because they are a different variety their cooking time can take around 10-20 minutes to cook and retain their shape once cooked, making them great for salads or as a starch replacement when cooking.
---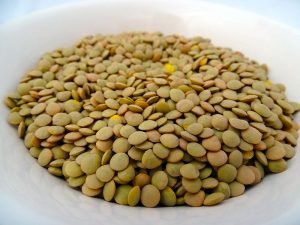 4. Lentilles du Puy
These lentils are curiously colored, being spotted green/slate green. Being a special variety, they are cultivated in France in the Puy District and are sold in the US as Puy Lentils. They are a protected variety in France and in the European Union. These lentils have a higher mineral count including iron and magnesium. To ensure authenticity, be sure to look for the seal of the governing body before purchasing. For cooking times, they can take 20 minutes.
5. French Green Lentils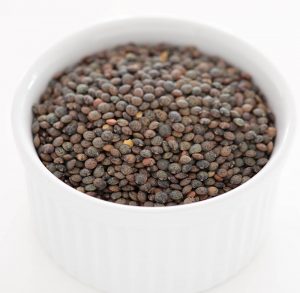 Very similar to its sister variety, Lentilles du Puy, (Amazon) however the French Green lentils are those which are not grown in the Puy District and are certified by the governing body. Therefore they are typically grown in other countries, such as Canada and the US where they are sold as French Green Lentils.
6. Black Lentils
Black lentils are also known as Beluga lentils due to their black spherical shape and resemblance to Beluga caviar. Their flavor is deep with earthy tones. Because of their amazing color profile, Black lentils are used for their unique flavor and beautiful color and texture. They can take from 20-30 minutes to cook thoroughly.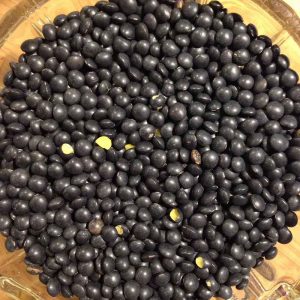 Nutritional Benefits
Because of their high protein content, lentils are often used often in a vegetarian or vegan diet. By combining with quinoa, can provide a solid foundation for a healthy diet. At a minimum, 10% of the starch content of lentils are not absorbed by the body. A unique feature of lentils is their ability to limit the bioavailability of dietary minerals with trypsin and phytates. This can be reduced by soaking and fermentation and sprouting.
---
Nutrition Information
Lentils are a fantastic choice for healthy living and despite their trypsin and phytates content, they still have a wide variety of nutrition.
Lentils, raw (dry weight)
Nutritional value per 100 g (3.5 oz)
Energy
1,477 kJ (353 kcal)

Carbohydrates

63 g

Sugars
2 g
Dietary fiber
10.7 g

Fat

1 g

Protein

25 g

Vitamins
Quantity%DV†
Thiamine (B1)

76%

0.87 mg

Riboflavin (B2)

18%

0.211 mg

Niacin (B3)

17%

2.605 mg

Pantothenic acid (B5)

43%

2.14 mg

Vitamin B6

42%

0.54 mg

Folate (B9)

120%

479 μg

Vitamin C

5%

4.5 mg

Minerals
Quantity%DV†
Calcium

6%

56 mg

Iron

50%

6.5 mg

Magnesium

13%

47 mg

Phosphorus

40%

281 mg

Potassium

14%

677 mg

Sodium

0%

6 mg

Zinc

35%

3.3 mg

Other constituents
Quantity
Water
8.3 g
Source: (USDA)