The Best Chef-Selected Ceramic Frying Pans
In the world of non-stick, Teflon reigns king. Teflon frying pans have had their fair share of problems, though, leading consumers in trying to find a new alternative that is healthier and more economical. We will be going through several ceramic frying pan options for you to choose from. We will be judging the various ceramic pans for quality, brand, and longevity. As always, we do our best to sort through the products and present you the reader with a short list of the best products.
Ceramic is rarely used in professional kitchens. A big reason is how brittle ceramic can be. Restaurant kitchens are tough on cookware. Ceramic can crack and does not fair well when used with high heat. Cracked ceramic can lead to food borne bacteria producing within the cracks, making it a potential health hazard. Also, if ceramic cookware chips off it could get into the food of patrons and post a major health risk.
For home cooking, ceramic is a wonderful material. It does not face the same rigors as commercial kitchen cookware does, and offers a fantastic alternative to Teflon products. If you were unaware, Teflon has been linked to a myriad of health issues. While safe to use as directed, during high-heat it can off-gas hazards chemicals. It can also chip off, causing ingestion which is also not good.
As a chef with 20 years of experience around lots of different cookware materials, ceramic fills a role that when used properly is unmatched. Delicate products such as eggs, omelets, sauces, and fish are perfect for ceramic. When you go to buy your ceramic set,
Choosing a proper ceramic frying pan is not simple. The surface of the pan can easily hide low-quality cladding. This can lead to uneven cooking, weight imbalance, or thin pans that overheat and burn.
We will cover the best ceramic frying pan set, the best value, best quality, and best high-end ceramic pan.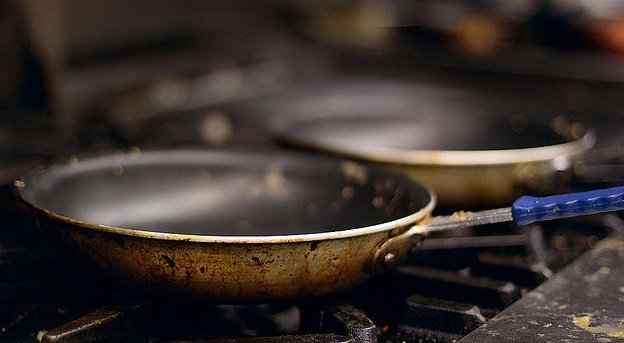 Ceramic is gaining popularity in the home kitchen as of late due to its superior non-stick abilities. More and more consumers are looking for alternatives to Teflon.
Ceramic frying pans offer good heat transfer, solid non-stick performance, easy cleaning, and reasonable price.
The best cooking methods to use with a ceramic frying pan are low to medium-high heat. While ceramic can handle high heat and searing, it can damage the finish and create pitting. This can lead to harmful bacteria forming within the pores. This is also the main reason why ceramic is not widely used in restaurant cooking.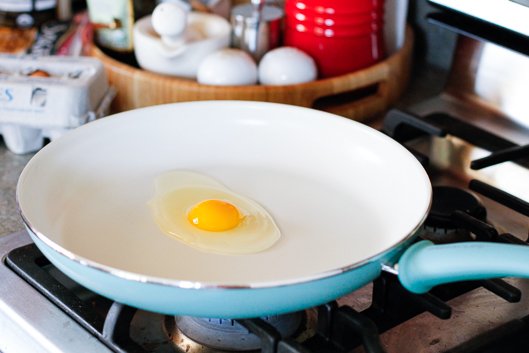 The Benefits of Ceramic
Ceramic frying pans provide many benefits that are important to the conscious consumer. Ceramic will appeal to those wanting a more eco-friendly option at a low cost. They are a specialized product, so most households will have one or two and use them when needed. You wouldn't outfit your entire cookware set with ceramic.
No Scraping or Flaking.
While most home chefs will have migrated from stainless steel utensils to the more cookware-friendly plastic or silicone, ceramic frying pans and cookware are not at risk for the flaking or scratching or scraping like the soft Teflon non-sticks are.
No Flavor Contamination
Teflon non-stick have a tendency to pick up and impart flavors over extended periods of use. You might have noticed this when you smell your pan as it heats or that your food seems to taste better when cast iron or stainless is used instead. Ceramic frying pans do not have this problem.
Longer Life
Teflon and other non-stick use softer materials that break down after extended usage. Especially those at the cheaper price points from places like Wal-Mart (T-Fal is terrible for this). A ceramic frying pan is not at risk of having the surface deteriorate.
The Cons of Ceramic
It Doesn't Replace Stainless Steel
Ceramic is probably as close as it's going to get when reproducing the benefits of stainless while maintaining the non-stick performance. But it still doesn't replace stainless steel cookware.
Ceramic is Brittle
One of the main reasons glass and ceramic are not widely used in the professional restaurant industry is the fact that when they are ridden hard, glass and ceramic tend to crack and break. While ceramic pans are not as at risk as ceramic knives would be, they are still a risk and are therefore not used.
Top 5 Recommended Ceramic Frying Pans
There are a few factors we take into consideration when it comes to our process of a recommendation of ceramic products. Because they aren't used in the professional kitchen, we have to choose a selection process that holds up to the rigorous trials of the professional kitchen as well as being cost-effective and of course super high quality.
The Best Ceramic Frying Pans
BEST 2-PIECE SET
Calphalon 2-Piece Classic Ceramic Set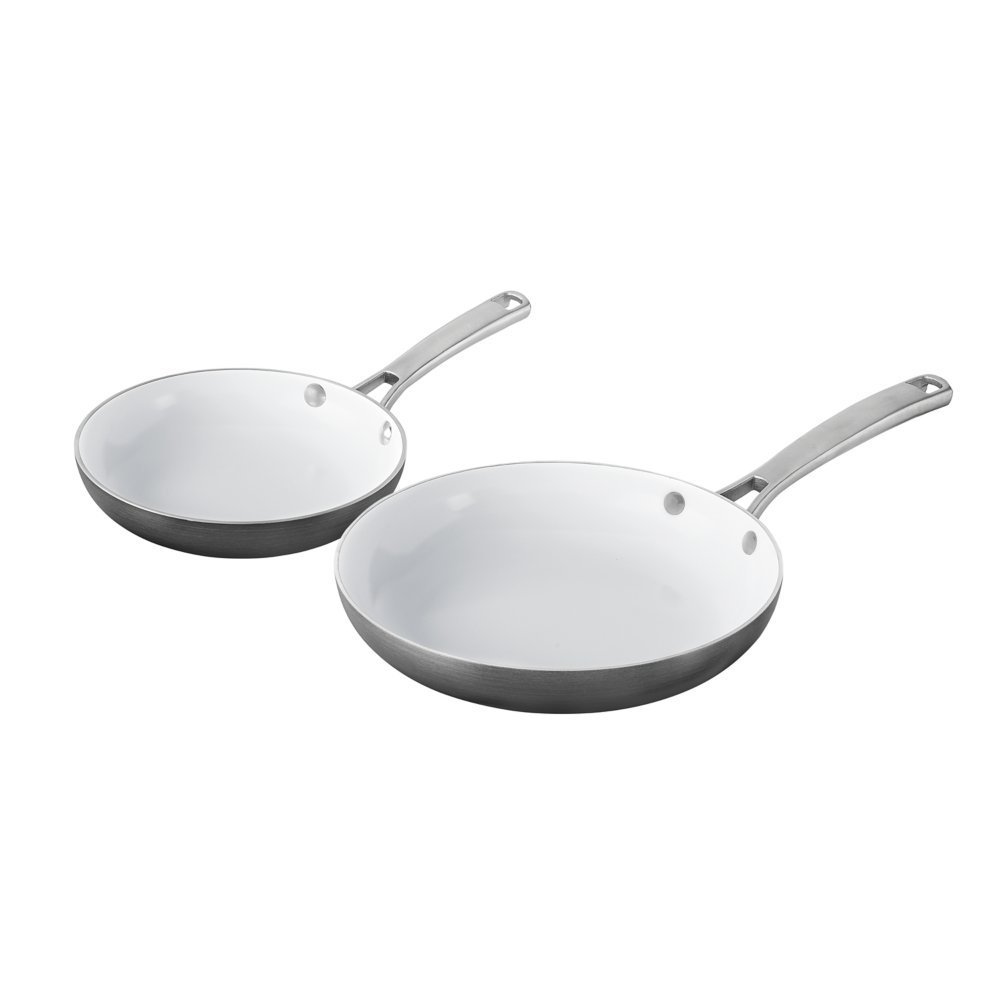 BUY NOW ON AMAZON
What Makes It Great
When it comes to 2-piece sets, there are a few choices. Sticking to a popular name brand that exists outside of Amazon is important to me and this is why I chose the Calphalon. Too many times I have seen the Amazon Chinese brands end up with poor quality and spoofed reviews.
This set is made like cookware should be, with proper cladding and riveted handle. It supports our stove-top to oven requirement and is safe for up to 450'F. It has great versatility and solid construction.
An important factor to note when it comes to ceramic cookware is they are not as non-stick as Teflon is going to be. Particulates can interfere with its non-stick ability, so be sure to use proper lubricant such as butter or oil when cooking.
Product Summary
Quality Brand
Fair Price
Stove-to-Oven
Good Quality
BEST OVERALL
GreenPan CC000028-001 Paris 10 Inch Ceramic Non-Stick Fry Pan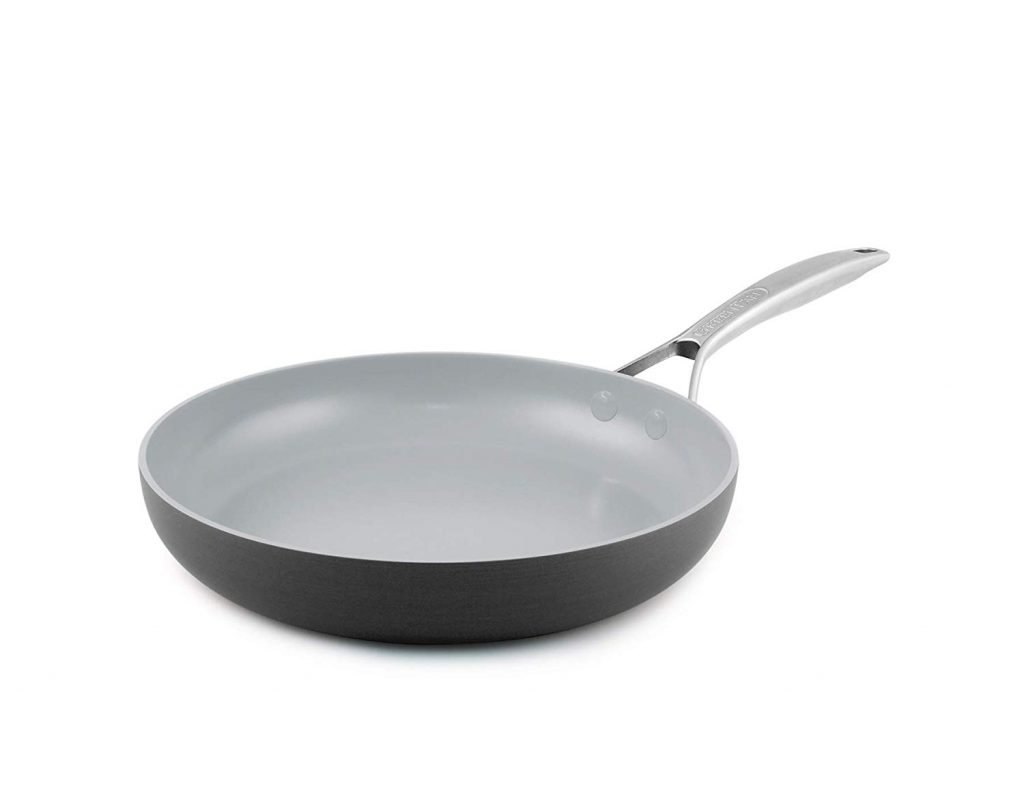 What Makes It Great
GreenPan is a brand that has been making a name for itself in the non-stick world. They offer a good quality product at a reasonable price. We chose GreenPan for a couple reasons. The first being that they have a strong review score through both their own website and through Amazon. This is an important trust factor for us. When I tried the GreenPan, I was surprised at the even heat distribution it had. This allowed for a balanced cooking experience that did not leave me wanting.
This pan is a solid choice for the home and can be purchased in various sizes (8″, 10″, 12″) depending on your need. It has good quality construction with decent cladding and has a hard anodized coating to help strengthen the ceramic.
Final Thoughts
Like with any tool, ceramic has its place in a kitchen. It is a superior choice if you have to go non-stick to eliminate the need to use Teflon or other non-stick coatings. If I had to make the choice, I'd choose ceramic ten times out of ten because it is healthier, smarter, and last longer than traditional non-stick. From a purely culinary perspective, avoiding any flavor contamination from non-stick is a huge bonus. We hope that this has helped you make an informed purchasing decision on what type of ceramic frying pan to get for yourself or as a gift. As always, please be sure to check out The Culinary Cook for more how-tos, product recommendations, and culinary discussion!