How To Make Vegetable Stock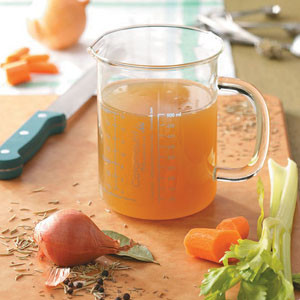 Vegetable stock is easy and quick to make has a low cost, and can substitute water in almost all situations. It is versatile and, most importantly, tasty! The method of making vegetable stock isn't written in stone, and the recipe on this page is a very versatile standard that can be used in many, if not all, situations. That being said, this stock opens itself up to interpretation quite well, and while it's never a bad thing to fall back on this recipe when in doubt; experimenting with this stock is almost a given.
Vegetable stock is an excellent alternative for vegetarians or vegetarian dishes that use the white stock as a base. They are excellent in soups and lend a deep sophisticated flavor to just about all types. Use of this stock should be common for any great cook and having some frozen never hurt anybody
Preparation
Vegetable stock is easy and simple and can be done in a relatively short amount of time. In order to get the best economical value out of vegetable stock is to save the trimmings of carrots, celery, and onions during your day to day prep work.
Vegetable Stock
Yield: 4L (1gal)
Prep Time: 10 minutes
Cook Time: 40 minutes
Vegetable Stock

| Item | Weight (Metric) | Weight (Imperial) |
| --- | --- | --- |
| Vegetable 50 ml | 50 mL | 2 fl oz |
| Mirepoix, small dice | 600 g | 1 lb, 4 oz |
| Leek, whites & greens, dice | 125 g | 4 oz |
| Garlic clove, chopped | 4 | 4 |
| Fennel, small dice | 100 g | 4 oz |
| Tomato, dice | 100 g | 4 oz |
| Water | 4.5 L | 4-1/2 qt. |
| Sachet (Bay leaf, thyme, peppercorns, parsley stems | 1 | 1 |
Procedure
Heat the oil and add the vegetables. Sweat the vegetables for 10 minutes
Add the water and sachet
Bring the mixture to a boil, reduce to a simmer and cook for 40 minutes
Strain,