How To Make Poached Eggs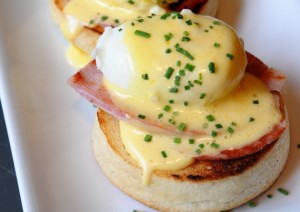 One of my favorite types of eggs are poached eggs. Poached eggs check off quite a few bullet points along the way to the top of my own personal Top Foods report card, and it is consistently one of the more challenging types of egg cookery that there is out there due to the fact that they, like risotto, require constant attention in order to get perfect.
For many cook, old and young a like, I see mistakes that are repeated on a regular basis. The goal of the Culinary Cook is to advance your knowledge of the basics so the more advanced techniques come with ease. Let's begin with some basic information.
Skills You Need For Success:
Understanding the "poaching" cooking method and moist-heat cooking.
Knowing what a "simmer" temperature is and what it looks like
Time management
Tools You'll Need:
Making Poached Eggs Perfect
Learning how to make poached eggs takes some finesse. If you've learned the above skills and know the terms well and if you've acquire or already have the equipment needed, then you're ready to start.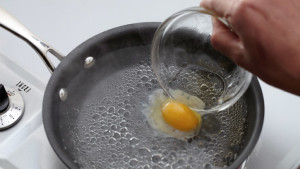 Eggs that have to be poached should always be as fresh as possible. They should also be kept very cold until used. Cold egg whites stay together better when dropped into hot water. Poached eggs should be soft and moist and the white should be firm enough to encase the yolk completely. But the yolk should be still runny. Some chefs add salt to the poaching water to add flavor; others feel the salt causes the egg white to separate. To ensure the egg white cling together, add about 2 tablespoons of white vinegar per liter (1 qt) of water.




Basic Procedure for Preparing Poached Eggs
Fill your saucepan or stockpot with at least 7.5 cm (3in) of water. Add the salt and vinegar if desired. Bring the water to a simmer and hold at a temperature of approx. 90'C (200'F)
One at a time, crack the eggs into a small cup or ramekin. This way, if a small shell falls into the egg it can be easily removed before you submerge it. This also ensures that if the egg breaks, the egg can be set aside for another use.
Gently slide each egg into the simmering water and cook for 3 to 5 minutes.
Lift the poached egg out of the water with your slotted spoon. Trim any ragged edges with a paring knife. Serve Immediately.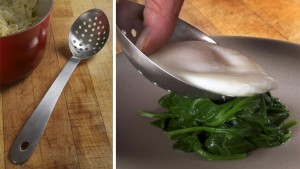 If you are creating poached eggs for a quantity setting, poached eggs can be poached in advance for up to one day. To do so, cook the eggs as described above. As each egg is removed from the water, set it in a hotel pan or bowl filled with ice water until needed. Once you are ready to serve the eggs, you can easily reheat them by heating up the pan or bowl, or one or two at a time by submerging them back into a pan of barely simmering water until they are hot.




Troubleshooting Poached Eggs
Poaching eggs is all about technique. Largely because any deviation from the steps above can lead to undesired results. Simmering water is used because it is calm and will not disturb the egg.
Cloudy Water: Egg was placed too quickly into the water, causing the egg to distort the color
Broken Egg Whites: Eggs disturbed while cooking; too little vinegar
Sticking Eggs: Temperature too low; not left long enough; dirty or inappropriate sauce pan
Poached eggs are healthy and delicious and can be used for a multitude of different dishes. Learning how to poach eggs will teach you skills that are easily transferred to higher more advanced techniques, especially when it comes to baking. The best method to get better at anything is to keep practicing! You'll want to be feeding as many eggs as you can to anyone who will eat them until you are a pro. There is no silver bullet, or secret trick here. Just proper technique, good habits, and a strong foundation of knowledge. Happy Cooking!