Concasse Tomatoes
[dropcap]H[/dropcap]ere is a brief run down on what you need to know in order to learn the technique of concasse tomatoes. The goal of this guide is to help you expand your cooking and culinary knowledge by breaking down the barriers that can cause you to spend more money on premade solution or to be forced to use an inferior product.




Concasse Tomatoes Definition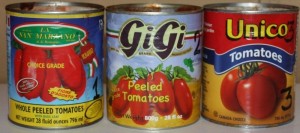 [dropcap]C[/dropcap]oncasse-ing tomatoes is the result when you remove the skin and seeds from a tomato, leaving only the flesh. You may already know this by the canned alternative that can cost upwards of $1.50 – $2.00 per can. What makes these options attractive is the time that they claim you save. For myself, the difference between fresh concasse'd tomatoes and canned tomatoes is night and day.
You may know the canned variety as "Diced Canned Tomatoes", or "Whole Canned Tomatoes", or "Stewed Tomatoes". Either way, they all contain additives like salt and preservatives that can affect flavor. The liquid that they come in is often of lower quality and if you are in need of that liquid I recommend purchasing pure tomato juice/sauce as an alternative. Only buy these products if time is truly a problem and avoid them if at all possible.
Benefits of Concasse Tomatoes
There are many benefits in producing your own concasse tomatoes. The flavor from fresh garden varieties that you may grow yourself is incredible, and on top of that tomatoes are generally inexpensive. Because you choose what to include in your tomatoes, your do without the salt additives and preservatives as well. Even if concasse'ing your own tomatoes costs more than the canned variety, the difference in quality more than makes up for it.




 Procedure for Concasse Tomatoes
Fill a saucepan with enough water to submerge your tomatoes and heat until simmering
"X" your tomatoes by cutting on the bottom and then core the tomatoes.
Place tomatoes into the simmering water.
Simmer tomatoes for 1-2 minutes. You will notice the skin may try coming off, this is normal.
Remove tomatoes from water run cold water over them.
Peel tomatoes and remove their skin
Squeeze the tomatoes to remove seeds and liquid
They are now ready for further processing
---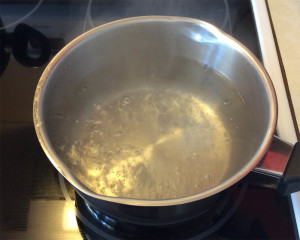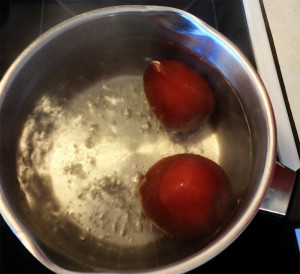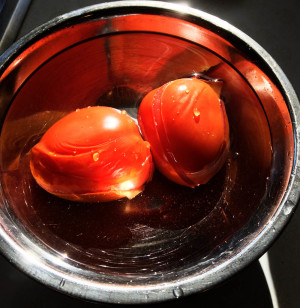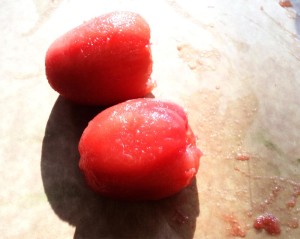 Conclusion
[dropcap]T[/dropcap]he only other reason where concasse tomatoes would not be a good fit is if you have limited time. But know that these tomatoes can be prepped ahead of time (Maybe the night before). Be sure to check out our Minestrone recipe to put your new knowledge to the test!